Over 45,000 students in my courses!
Over 3,000 5-star reviews in my courses!
This course updated in July 2018
Earn PDU's: Students who complete this course are eligible to receive 4.25 PDU's in PMI continuing education credits. Instructions for claiming PDU's are provided with the last lesson in the course.
Money-back Guaranty: Try this course and if you are not satisfied with the value you received from the course, just send an email within 30 days of registering for the course and we will give you a 100% refund.
Course Summary:
Develop a very high-impact and adaptive approach to implementing Agile and Scrum projects based on a deeper understanding of Agile/Scrum principles and values that can be adapted to any project and business environment!
Agile training is often limited to the "mechanics" of how to implement Agile and Scrum and that can often lead to weak and ineffective implementation. An adaptive approach that is based on fitting the approach to the nature of the project and to the business environment requires a deeper understanding of the principles behind Agile and Scrum.

This course is designed to provide Project Managers, Product Owners, Scrum Masters, and Agile Teams with a deeper understanding of principles and values behind Agile and Scrum and how they can be applied in real-world project situations to develop a high performance Agile approach that is adaptive to any project and business environment.
Special Note:
This course is part of an overall curriculum that is designed around helping students develop the skills required for a high-impact Agile Project Management role. Most students will want to take the complete curriculum rather than individual courses. The complete curriculum should be taken in the following order:
Learn the Truth About Agile versus Waterfall
What's the Future of Agile Project Management?
Agile Principles: Understanding Agile at a Deeper Level
Introduction to Agile Project Management
Mastering Agile Project Management
Advanced Agile Project Management
Enterprise-level Agile Project Management
Students who complete the entire curriculum of all seven courses shown above will receive a signed certificate of completion from the Agile Project Management Academy: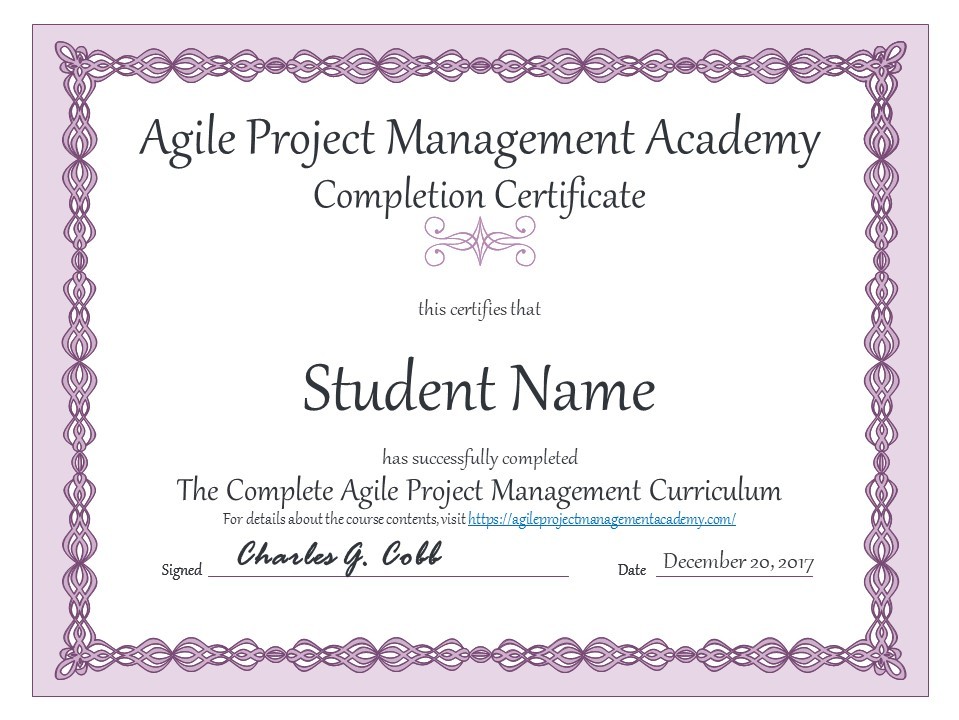 Enroll in a special bundled package consisting of all of the above courses:
Complete Agile Project Management Curriculum - Save $400!
The complete set of seven courses will also meet the 21 hours of training required for PMI-ACP certification.
In addition, there are two optional courses that are designed to supplement the above curriculum:
How to Prepare for PMI-ACP Certification is intended for students who are interested in using this curriculum to prepare for PMI-ACP certification
Agile Project Management for Executives is designed to help business managers understand how to implement an Agile Project Management approach that is well-aligned with their business